ENTERTAINMENT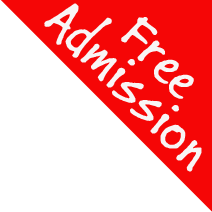 Entertainment at Bike-O-Rama
Free popcorn!
T.J. Howell's Comedy Unicycle Show
Friday 5:30 & 7:30 pm

Saturday 10 am, 11 am, noon, 1pm,
3pm, 5:30 pm

Sunday 10:30 am, 11:30 am, 1:30 pm, 3:30 pm
Howell's Airbrush Face Painting
Saturday 10:30 am - 5:30 pm

Sunday 11:00 am - 3:00 pm
Robbie Pfunder's Stunt Show
Friday: 4:30pm, 6:30pm, 8:30 pm

Saturday: 2:00pm, 4:30pm, 7:00 pm

Sunday: 12:45pm, 2:30pm, 5:00 pm
T.J. Howell
With the energy and speed of a skilled athlete and the timing and accuracy of an accomplished magician, T.J. Howell presents a world-class comedy juggling and unicycle performance. This amazing display of talent is an experience you will never forget! T.J. combines comedy juggling with exceptionally skilled technical juggling, creating a unique one-of-a-kind presentation. Howell is adept at unbelievable feats of dexterity and manipulation, from juggling objects of myriad sizes to riding atop unicycles as high as six feet tall. Read about his world record
here
!
Airbrush Face Painting
We have many unique and popular designs, something for everyone. Our designs only take a short time to apply but are sure to WOW you! We don't only do FACE Painting, we will even paint your arms, legs, ankles and hands too! To create these awesome designs, we use a wide array of brightly-colored paints. These are water based airbrush paints that dry quickly and last for hours, but will wash off easily with soap and water. Our designs are finished with a sprinkle of sparkling glitter, adding that extra special touch!
Robbie Pfunder to Perform at 2020 Bike-O-Rama
Showtimes
3 FREE stunt shows per day!
Friday

4:30pm, 6:30pm, 8:30pm
Saturday

2:00pm, 4:30pm, 7:00pm
Sunday

12:45pm, 2:30, 5:00 pm
The annual Bike-O-Rama showstopper
Robbie Pfunder
appears for what promises to be a spectacular 2020 show! Among his numerous exploits, Pfunder has been dazzling crowds for years at 500+ shows. For 2020, Robbie is riding and fully loaded to defy the laws of physics for our entertainment!
"I love performing at Bikeorama because it's a super fun way to start off the season and getting everyone reenergized on cycling. People come from all over to test out new product lines, get great deals and see what's happening in their cycling community."
Robbie Pfunder is one of the most accomplished trials riders in North America and multi-time Mountain States Champion. Robbie has accumulated over 19 years of competition and stunt show experience--performing in action shows all over the country and competing internationally since the age of 16. His dedication and perseverance is what sets him apart from the rest of the field. Robbie has performed for All Wheel Sports, RipStoke Bike Show, and is an NWTrials Factory Team Rider. He has also appeared on Epic TV. Now Robbie travels around with his own portable stunt show setup to amaze and dazzle crowds with his bike handling skills. Check out Robbie's website
here!